Table of Contents
---
A Message From The Editor
This month marks the celebration of Independence Day. A celebration which varies in importance depending upon your ethnicity. For some, it is a representation of their independence and for others it is a reminder of their continued struggle for freedom, acceptance, and independence. Wherever you fall on that spectrum, we hope the summer is full of laughter, love, and endless possibilities.
Look for Part II of Becoming a Caregiver – Embracing My New Reality with Love and Grace by Jacqueline Allen in our October Newsletter. As authors, photographers, and entrepreneurs we are always looking for the next great adventure. An opportunity to pen a new romance with an idyllic backdrop, describe in detail an amazing adventure, or capture the perfect sunset through the lens of a camera to be immortalized. With all those things in mind, we are coordinating a trip to Greece in 2023. Join us for what we believe will be an unforgettable trip. See the link below for additional details.
We are excited to have some new voices joining our Newsletter : Ronnie Moore, and Natalie Huckins. Both authors bring a unique perspective to storytelling. Head over to Meet the Authors selection to learn more about these amazing writers.
Happy Reading – Bernetta
---
MEET THE CONTRIBUTING WRITERS

Bernetta Thorne-Williams is the author of several romance novels including From Dysfunction to Love, Forever Love, POOF, Etched Upon My Heart, and others. She credits her travels with her amazing husband, of over thirty years, as the inspiration behind her stories of enduring love. Bernetta has displayed her writing talents in Chicken Soup for the Soul books, including Chicken Soup for the Working Mom's Soul, Chicken Soup for the Beach Lover's Soul, and Chicken Soup for the African American Women's Soul. She is currently one of the moderators for the Chicken Soup for the Soul group which hosts inspirational content from writers and positive enthusiasts from around the world. Looking for a romantic read? Visit her author's page
---

Jane Rhoe is retired with most of her professional experience in health services management. She has worked as a consultant with various hospitals, state governments, and other health-related organizations. Jane enjoys traveling. Her happy places include the beach and the mountains. Her other interest includes volunteering with community organizations and boards. Jane is most passionate about her growth as a follower of Christ. She is the survivor of a painful divorce and is healing one day at a time. Jane is proud of the strength and independence that she has cultivated during this journey. Jane is a native North Carolinian. Drop Jane a note at bernetta@luminousnewsletter
---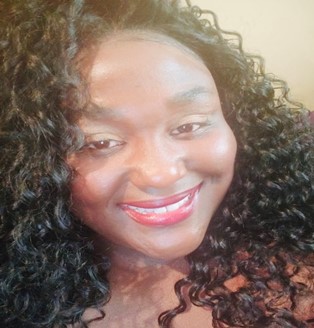 Ronnie Moore is a native of North Carolina. She was raised in a small, close-knit household where she learned the value of hard work and family early on. She is a graduate of Meredith College, where she received her degree in Accounting, with double minors in Finance and Economics. While she has not had the opportunity to utilize her background to the fullest, she has spent most of her professional career working in financial services as well as state and county government. She has also spent many years volunteering at hospitals, counseling youth and working with the elderly.
Ronnie has always had a strong entrepreneurial spirit. From the time she understood what it meant to earn a dollar; she would find a way to do it. Some of her early ventures in business included: home cleaning services, selling goods, and landscaping. If she could do it, she would. Currently, she is working to launch her own body care line, Belle Crave Body. With over 10 years of working to perfect her craft and learning how to utilize nature's medicine to heal, she is finally ready to share it with the world. Her hope is to make everyone love and feel beautiful in the skin they are in.
In her spare time, Ronnie likes to read, write, draw, and binge watch Netflix. She aspires to grow deeper in her relationship with God, as she knows she has only made it this far by His grace and mercy. She is no stranger to hardships or hard work, but with continued faith and perseverance she will become the woman of God she is meant to be. Drop Ronnie a note at bernetta@luminousnewsletter
---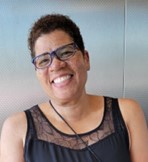 Natalie Huckins is a mother, grandmother, and entrepreneur. Originally from Upstate New York, Natalie and her three children moved to North Carolina twenty-seven years ago and settled in the Triangle. Last year, Natalie moved to the coast where she decided to resign from her full-time job and work solely on her business. Leaving the corporate world behind has afforded Natalie the opportunity to fully embrace entrepreneurship. With the grace of God, she has watched as her business has gone allowing her to set the trajectory for this next chapter of her life.
Natalie has a passion for writing, photography, and nature, oftentimes using her photography skills to capture the perfect moment at weddings, baby showers, anniversaries, and holiday celebrations. Next to her children, and grandchildren, Natalie states her three dogs are the love of her life.
Natalie worked several years in affordable housing and with those experiencing mental health challenges. Her years of experience in these fields have given her insight into the world's "invisible" population, which in turn has helped her grow as an empathetic, caring advocate for such people. Natalie also enjoys doing crafts and has dedicated her life to being the best person she could be as a child of God. Drop Natalie a note at bernetta@luminousnewsletter
Submissions
We are actively seeking articles between 800 – 1,200 words for our October newsletter. Please submit articles along with your contact information to bernetta@luminousnewsletter by August 15. Additionally, are you an author? We would be happy to promote your book in our next newsletter. Send a link to your book to the email listed above and we will review it for inclusion in our next newsletter.
A SUCCESSFUL MARRIAGE – BY CHOICE
Depending upon which statistical data you choose to believe, most marriages have between a 40 and 50 percent of being successful. According to a 2022 report by World Population Review 50 percent of all first-time marriages end in divorce with 60 percent and 73 percent, respectively of second and third marriages also ending in divorce. Those are not great odds. Which begs the question of whether marriage, as an institution, is an antiquated notion?
As someone who has been happily married over thirty-seven years, I can honestly say that I believe in the institution of marriage. Marriage, put simply, is a legal contract. Love, however, is an emotion which stems from a choice. Yes, love should be about those heart-pounding, butterflies in our stomach moments when we realize this is the person we cannot imagine living life without. However, once the heartbeat slows down and the butterflies cease to swoon, we are left with a choice. Am I willing to commit to loving this person through good times, tough times, sickness, mistakes, insecurity, and general stupidity?
For some, their belief in God plays a key role in the endurance of their marriage. While others have used the Bible to shackle people in loveless marriages with abusive partners. Marriage is a covenant between two people, thus if either party violates the covenant, it ceases to be binding. Marriage is not something one should endure, but rather something with someone special to be enjoyed.
Our marriage vows are not something we say once before family and friends, but rather something we choose to commit to each day. Think of it like showering; we cannot shower once and think that should suffice for the rest of our lives. It is a daily routine (hopefully). Otherwise, we become smelly and unpleasant to be around. A good marriage requires daily choosing our spouse over-and-over again. Practice the five common sense strategies to a successful relationship: honest communications, compromise, forgiveness, togetherness, and grace.
Honest Communications – that does not include telling your partner that outfit makes them look fat; there is a difference between being honesty and being intentionally cruel or plain dumb. Being honest means, we share our fears, concerns, and insecurities. We discuss things openly and we listen to our partners concerns. A great marriage relies heavily on great communications. Do not make your partner guess what you are thinking. Marriage is not a game of charades, but rather more of a forum for open, honest, heartfelt dialogue.
Compromise – this may come as a surprise, but no one is always right. Just as no one is always wrong. Our partners have an opinion and a mind all their own. That was perhaps one of the attributes which drew us to them in the first place. They need not agree with us all the time. The art of learning to compromise is critical to the success of any relationship. Agreeing to disagree does not mean we circle back to the conversation later; simply put it means we have reached an impasse and we are okay moving forward without agreeing on this topic. Naturally, this approach cannot be used for critical, life altering questions like whether to have children, living off one salary, or what faith we choose to bring our children up believing. Those decisions can be deal breakers and should be discussed before the 'I do's' are exchanged.
Forgiveness – we mess up. We do stupid things and have those moments when we develop diarrhea of the mouth. Those moments when our brain takes a sabbatical. Those moments are hopefully followed by clarity and a heartfelt apology. At that moment we have a decision to make. Do we forgive or do we hang onto what we consider to be our righteous anger? It helps to remember being on the other end of desperately needing someone to forgive us. Forgiveness does not make us weak it makes our relationship stronger.
Togetherness – we get married to spend time with the person we have decided we cannot live without. Then we allow jobs, outside commitments, other obligations, and the general busyness of life to pull us in different directions. Whether you decide to have a family or not, the two of you were a couple before you became parents. Protect your time together. Schedule date nights and take romantic getaways. Unplug from the rest of the world during your date night. For those with children, set a special ringtone on your phone for the babysitter. Except for answering a call from your childcare provider, your cell phone should be treated with disregard while on a date with your partner. Remember your partner is your best friend, your support system, your ride, and live person (we are skipping the whole ride or die thing). This is the person who can brighten your day with their smile and hold back the craziness of the world with their presence. This is your person, make him or her a priority.
Grace – is unearned. It is unconditional. We extend it because we can. Oftentimes the first place grace should be extended is inward. We mess up and say or do things that cause pain to those we love and despite having the other person's forgiveness we spend countless hours berating ourselves for our insensitivity or stupidity. We are imperfect people who will make mistakes. Not out of malice, just out of being human. If we believe our partner would never do anything to purposefully cause us pain and vice-versa, then grace is what we use to move towards a happy and fulfilling relationship.
Marriage is not an antiquated notion. Like most things in life worth having, a good marriage requires a commitment; a purposeful decision each day to choose your spouse over-and-over again. It requires a renewal of those vows spoken daily to love and honor our partners. It requires not the wearing of rose-colored glasses, but rather the commitment to say I do, and I will DAILY love, honor, protect, forgive, and cherish my partner.
Written by Bernetta Thorne-Williams
WORD SEARCH
SUMMERTIME FUN
---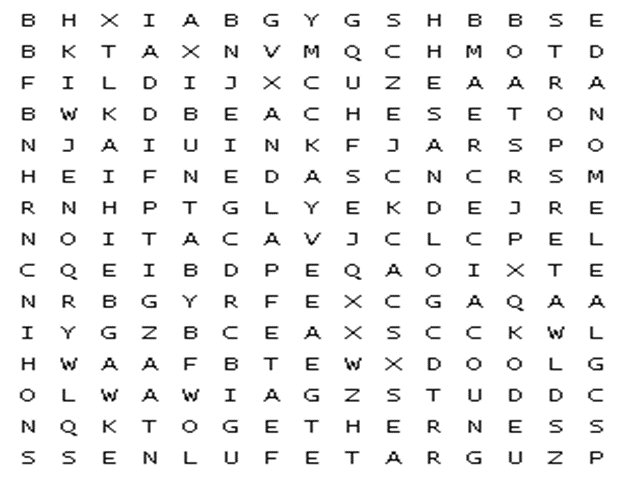 ICE CREAM
READING
BEACHES
BIKING
SAND
RELAXATION
VACATION
OCEAN
WATER SPORTS
LAZY DAYS
BREEZE
TOGETHERNESS
BOATS
GRATEFULNESS
LEMONADE
THE DEATH OF A MARRIAGE – Part 2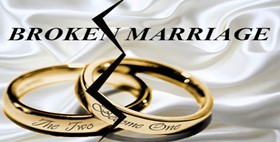 Broken spirit, very little money, and feeling I had nowhere else to go, I went back to my former husband (MFH) as Mama instructed. I thought about exchanging my ticket for Knoxville, Tennessee where a friend lived. I also thought about Chapel Hill, but then I did not want everyone to know my marriage barely lasted a measly three months. Most likely, I would have been welcomed back to school. After re-enrolling, someone would have let me sleep on their couch until I found a job, obtained some grants and student housing. Because I felt I had nowhere else to go I went back to Brooklyn and the devil I knew.
When MFH picked me up at Grand Central Station, instead of flowers or a box of chocolates, I was met with a terse, "Why did you stay so long? You said two weeks." Of course, he asked me that on the phone while I was still at Mama's. And I told him I wanted to spend more time with her. Face-to-face I told him the truth, that my intent was leaving him. He said he did not believe me, became angry, but laughed. I angrily and tearfully reiterated how miserably he treated me plus he allowed his mom to interfere in our marriage. Things were tense for a while, and he admonished me to not tell anyone I had left him.
Even in recent years, if he heard me tell someone that I left him early in our marriage, he would laugh and deny it. We are divorced, and strangely he is not being candid about it. July 19, 2022, marks my three-year independence celebration. It is difficult to believe that we are legally divorced. The marital ties have been severed and yet sometimes I have what amputees refer to as "phantom pain". MFH's hold on me has long talons and some of the mistakes he made during our marriage still haunts me. It does not help that he still insinuates or comments that he is on his way back to our home. Two of his closest friends have told me he is a master evader on the topic.
After I returned to MFH some common sense kicked in. I realized whether I stayed with him or left the marriage again, I needed my own income and a decent job with a good salary. I needed a degree! So, I went to work and took courses with transferable credits at Pace University in New York City. It took a while for me to feel more comfortable in what I called our "sandbox" marriage. A "sandbox" marriage is generally defined as a marriage between immature youth growing up together and discovering marriage (sandbox) is not all fun and games.
We left Brooklyn after two years. When we arrived on North Carolina soil; closer to my family, I was so thankful I "kissed the ground." Our marriage had ups and downs but for the most part things were going well. MFH got a job an hour away from where we lived. He worked nights but was attentive and supportive. We enjoyed spending most of our free time together as a family, including travel. After buying our first home we started living the "American Dream."
My family was thrilled that I kept my promise to finish college. In fact, I went on to graduate school. MFH obtained an associate degree. While working in pediatrics in a major medical center, I fell head over heels in love. I was smitten with a nine-month-old baby boy who had multiple hospitalizations. We became his foster parents followed by the awesome privilege of adopting him when he was three years old.
I have been asked "why I stayed in our dysfunctional marriage for so long?" One of the most important reasons is I wanted our son to grow up with both parents present to love and nurture him. Our son was reared to believe daddy was a good provider which required him working weekends and sometimes temporarily away from home. Permanent assignments meant moving. Many times, we lived apart until I obtained a job. As a "good" wife I was expected to support his career which meant following him to various states and delaying or abandoning my aspirations.
Another reason I stayed was to avoid failure and to prove the naysayers wrong. Those who said our marriage would not last. Research has shown that 50% of marriages end in divorce (Wilkinson & Finkbeiner, 2022). That was one statistic I intended to avoid like the plague. I felt I had to be successful in all I did.
I submit that our marriage survived longer than it might have because of MFH's distant assignments. When issues arose, I did not want to address them because our weekends and holidays together were short and we, or at least I, wanted our time together to be as perfect as possible. I wanted him to long to see us as much as we longed to see him.
MFH was on his own, while I "single-handedly" reared our son. When our son got sick, if my mom and sister could not come, I would hire a nurse to stay with him as not to interfere with my corporate climb. I vividly remember an illness when his fever would not leave. MFH was away, per usual. I was exhausted, frustrated, and afraid it was something serious. One night I went into the kitchen for Tylenol. The next thing I knew I was twirling around in a circle. I remember hearing the bottle hit the wall; and realized I had thrown it. When I regained my composure and opened the bottle, all the tablets were crushed from the force of the bottle hitting the wall! Although momentary, I could hardly believe my powerful loss of self-control! Thankfully, our son soon recovered.
MFH got another promotion. It took me several months to find a job. He had already settled and found a church. One Sunday we were leaving church; a little girl probably about four came up to MFH, took him by the hand while looking up at him smiling. Did she know him? The woman I assumed was her mom apologized and called the child. Hmmm… MFH denied knowing them and made light of it, but something in my gut told me they knew each other. How many children go up to strangers and take them by the hand? The woman did not seem concerned and was smiling. What in the world? I can assure you I was not smiling. I never saw them again. Once in the car, furiously I pressed the issue, sick of his cavalier attitude. If she was there to raise doubt about MFH's fidelity … she was successful.
During another of my MFH's assignments, our son lived with daddy the second half of the school year. I was adamant that daddy spend more time with him. We lived apart for one year before I secured a job. Yet within hours of me arriving, we had a disagreement about the grocery store. MFH's response, "I don't know if we are going to make it." WHOA! Really?! Our marriage was hanging by a sliver of thread, and I did not know it! Why did I not know it? Unbelievable! I was working in another state until I found a job. MFH should have told me that he no longer wanted to be married before I resigned from my job! I was devastated and livid. When I asked, he deflected, called me a drama queen, and asked me why he would want me to leave.
I would soon learn the lengths of MFH's duplicity.
Stay tuned for Part III of Death of a Marriage in our October newsletter.
Written by Jane Rhoe
BOOK NOOK
---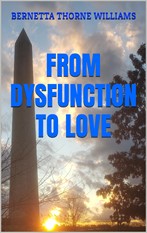 From Dysfunction to Love is the awaited sequel to Forever Love.
Gail Evans does not believe in a forever love because she witnessed firsthand the devastation that a relationship gone awry could cause for all those concerned. At the age of ten, she witnessed her dad engaging in a flirtatious encounter with someone who was not her mother. Once she divulged that information to her mother, it was the beginning of the end for their family of four. That experience taught her that love might exist for the lucky few, but for most people the thought of a lasting love was best left to fairytales.
When she falls for the best man at her best friend's wedding, Gail will need to heal her traumatic past to follow her future.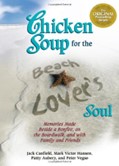 Chicken Soup for the Beach Lover's Soul:
Memories made beside the bonfire, on the boardwalk and with family and friends. There are many places we can go to enjoy time with friends, to have an action-packed vacation, or to enjoy a little solitude, but none of them have the same ability to soothe our souls as the beach. Perhaps it's the magic portrayed by children building sand castles or the gentle sounds of lapping waves on the shore.
THE STRUGGLES OF BEING A YOUNG BLACK PROFESSIONAL FEMALE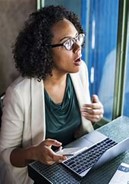 Growing up, my family instilled in me the importance of education and hard work. Two things my grandmother always said to me, do not end up on Bragg Street (Women's Prison) and you will end up in one of those buildings one day (Downtown Raleigh). I did not understand what she meant at the time, but now that I am older, I get it. My family has always encouraged me to go after my dreams, to never give up and supported me in everything I have ever done. For that, I am profoundly grateful. It is that encouragement and support that pushes me to keep going and gives me the strength to navigate a world that is not always accepting of professional young, Black females.
Working to find my way in the professional world has not been easy. I have been rejected and passed over for multiple opportunities just because of how I looked. On paper, I check all the boxes. During the phone interview, everything goes extremely well. But when I show up for the in-person interview, the energy and disposition of the panel is completely different, as the looks on their faces show I am not who they expected. Now at this point you may be wondering what I mean, so let me explain. Have you ever heard the phrases, "you talk white," or "you are an Oreo?" I have all my life and it is frustrating. I never understood why talking "proper" is always associated with white. As if you cannot speak well as a Black person or like certain activities or music because of the color of your skin. Unfortunately, it is a sad reality that has followed me into my professional career. So, when I go to the interviews and they see my Black skin AND the fact I am overweight, I am greeted in a different manner and my qualifications no longer matter.
It is unfortunate that today the color of my skin and weight appear to measure my work ethic and intellectual abilities. Instead of being able to prove my skills and show them what I can do, that opportunity is denied. In turn, I have been forced to take on jobs that I am overqualified for and do not align with my desired career path, which has hindered me from garnering the experience I need to propel me to another level. Not to mention, I work ten times harder than my Caucasian counterparts for less the pay.
An article published in August 2021 cites the following: [1] 1. On average women earn 80 cents for every $1 that their white male counterparts earn. However, Black women are paid only 61 cents for every $1 their white male counterparts earn. 2. This disparity is present regardless of education, location and age, and it persists in both low and high paying positions. 3. Black women also have the highest student loan debt of any racial or ethnic group, according to the law center. For an undergraduate degree, they carry about $30,400 in debt, compared with $19,500 for white men.
Based on the statistical information cited above, it becomes critical for women of color seeking professional satisfaction, gratification, and fulfillment to think outside the corporate box. Thus, becoming an entrepreneur is a road more women may wish to explore.
The professional world has shown me several stages of inequality over the years in many areas that has caused me to second guess myself and feel defeated. Honestly, I fell into a period of stagnation and felt like this was it for me. That I am not good enough to move forward or worthy enough of applying for certain jobs that I know I can do. I even convinced myself that certain places will not hire me because of my skin color or weight, just based off past experiences. I hate that I did that to myself. That I allowed my light to be dimmed, that I allowed myself to downplay my smarts and be accepting of the bare minimum when it comes to my professional career. But fortunately, I am changing that way of thinking. Instead of continuing to try to adapt to a world that does not accept me as I am, I am learning to I accept myself as I am and make my own way. My voice deserves to be heard and I am good enough. I no longer see rejection as being denied, but protection from a place I did not need to be.
While I still have career aspirations that I want to achieve (and will achieve), my route to getting there has changed. I am choosing to take those adversities I have faced over the years and use them as motivation to push through and claim what I deserve. If I have learned one thing over the years, it has been that the traditional professional world is not for everyone, particularly young, Black females. The advancement in technology has afforded me the opportunity to pave my own way. I am grateful for my struggles, as they have been the driving push to keep going. I am grateful for my support system for teaching me early not to give up and to keep pushing. So, even in my stagnant season, I knew I was destined for greatness. Times have changed and like the black queen I am, I will adjust my crown and walk into God's purpose for my life, gracefully.
Written by Ronnie Moore
TEN INSPIRATIONAL QUOTES WHICH FOCUS ON MIND, BODY & SPIRIT
Low self-confidence isn't a life sentence. Self-confidence can be learned, practiced, and mastered–just like any other skill. Once you master it, everything in your life will change for the better," by Barrie Davenport.
"Happiness is not by chance, but by choice," by Jim Rohn
"The foundation stones for a balanced success are honesty, character, integrity, faith, love and loyalty," by Zig Ziglar.
"Solitude is very different from a 'time-out' from our busy lives. Solitude is the very ground from which community grows. Whenever we pray alone, study, read, write, or simply spend quiet time away from the places where we interact with each other directly, we are potentially opened for a deeper intimacy with each other," by Henri Nouwen.
"The two words 'information' and 'communication' are often used interchangeably, but they signify quite different things. Information is given out; communication is getting through," by Sydney H. Harris.
"Life is too short to wake up with regrets. So, love the people who treat you right. Forget about those who don't. Believe everything happens for a reason. If you get a chance, take it. If it changes your life, let it. Nobody said life would be easy, they just promised it would most likely be worth it," by Harvey Mackay.
"Seize the day, take hold of it, and make it whatever you want," by Jessica Sorensen.
"The most wonderful gift one human being can give to another is in some way to make that person's life a little bit better to live," by John Assaraf.
"Don't be afraid your life will end; be afraid that it will never begin," by Grace Hansen.
"Procrastination is opportunity's natural assassin," by Victor Kiam.
Visit our website for daily motivations Luminous Inspirations
THE OLD BECOME NEW AGAIN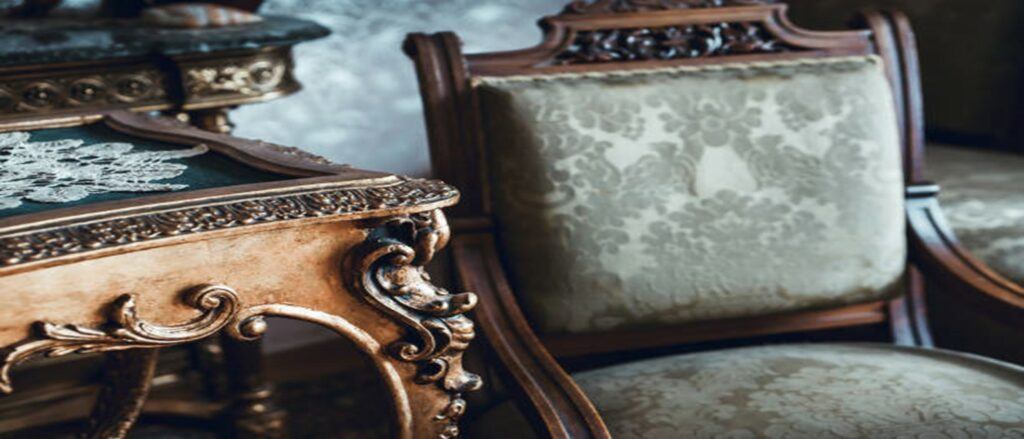 ---
Why do we like old things? What is it about dusty, old, dilapidated homes that excites us and makes us want to "walk back in time?" Why do we buy new furniture that looks old and worn, yet barely manages to capture the authenticity of that forgotten coffee table or dresser that once brought joy and perhaps even elegance to a home many years ago?
It baffles me as I walk through the aisles of the home improvement stores. I see so many varieties of chalk-paint, brushes, waxes, sandpaper, etc. What our parents once discarded as "old" furniture, is now called "vintage" or "distressed." Neither of those words bring about comfort unless used for the specific purpose of describing furniture. All of this to relive a moment in time that most of us rarely bother to even glimpse at when given the chance.
I'm different though. I have always been fascinated by the detail used by former craftsmen whether it be the scallops on a tall building downtown or the intricate details in the arms of a Queen Victorian chair. It is all art and I love art. It takes time and patience, not to mention a great deal of focus, to create something that lasts for decades and in some instances, centuries. I imagine the artist, alone in his or her dusty studio, creating what some may think to be worthless. Yet, now, here we are scrounging the internet to find old windows, pieces of a dismantled barn and weathered doors tossed aside by ignorant, eager builders flipping houses. We long to bring history into our homes. There is a feeling one gets when they enter a room that houses a refurbished old barn door. We are in awe as we approach the door cautiously and gently glide our fingers across the once rusted hinges and door panels. What have these doors seen? How many animals entered through their doors and how many people, including slaves, in their pursuit of freedom, hid and were protected by these doors? No one can say, but we all imagine.
Growing up, we lived on an old farm that had a cobblestone barn, a wooden barn and a functional well with fresh Spring water. My father had the stone barn torn down and he had the well filled in so none of his children would accidentally fall in. But oh, how we treasured that wooden barn! It had three horse stalls and a large loft where we spent most of our time. Every year I asked my father to get me a horse for my birthday. As a child, I had no idea about the work involved in keeping and caring for a horse. I never got that horse, but I still hold many wonderful memories of that barn. It was our secret hiding place. It was our refuge from chores our mother always seemed to assign to us. But mostly, it was our reading room. I cannot count the number of books I have read in that barn during our summers off from school. I believe it is memories like those that make us want to hold onto fragments of our past through vintage and distressed barns and furniture.
Melancholy is the word that comes to mind for me. There is something relaxing, soothing, and utterly inviting when we see that table or dresser with worn paint. It takes us back to a time when life wasn't so complicated. It brings a small piece of simplicity to our fast-paced lives filled with virtually, well, everything! Today's world is complicated and often, scary. We learn to avoid the news because nothing good is happening. But even that avoidance does not work as news headlines pop up on our phones (that are always with us) and across our television screens. Gone is the life where we were able to go to work, come home and share our day with family. No more do we allow our children to walk home from school and more and more parents will not even put their children on the bus. The schools have been forced to re-pave and re-route their drop off and pick up zones to accommodate the increasing carpool lines. Law enforcement is needed to guide traffic and protect students at the start and end of the school day. No, we no longer have the days when we did not worry about war, pandemics, and protests in the streets. Those days exist no more.
But when we buy a distressed piece of furniture, it gives us the opposite feeling of "distressed." It causes us to pause, breathe deeply and admire what once was. We stop, smile, and slowly run a finger along a table that may have once held someone's tobacco pipe or perhaps it was the cooling spot for fresh baked pies in thin, dented pans.
Whatever the reason, we buy old things to put in our new homes because it makes us feel good. True enough, there are those who are attempting to make a "fashion statement." However, I do believe most of us want a piece of a simpler time in our lives; at least that is why I enjoy "older things" in my home.
Written by Natalie Huckins
WORD SEARCH ANSWER KEY
---